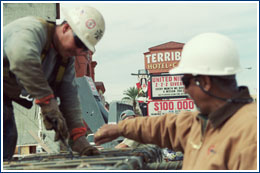 Core Values
Respect, Commitment, Integrity & Teamwork. These are the principles that SET was founded on.
Quality Training
Our team dedicates time to the enhancement of current skills and helps develop a higher quality of service, within all employees.
Internships
Programs are available in most areas. For detailed information please contact us at 702-413-6640
Mentoring
The mentoring program is available for dedicated and determined individuals that are interested in pursuing an area intensely within the Civil Engineering field.
SET is always looking for individuals in all areas. Below is a listing of all our positions. Please note highlighted areas are of positions currently available.
Positions - "There are no open Employment Opportunities at this time."
CADD Technicians (all levels)
Engineering Intern
Project Engineers
Principal Engineers

Field Technicians
Geologist
ICC Inspectors
Lab Managers
Lab Technicians
Project Managers
Surveyors
E.I.T.'s
Special Inspectors
Material Technicians

Accounting Clerks
Administrative Assistant
Contract Administrator
Receptionist